WRITE IT

SPEAK IT
MANIFEST
THIS IS WHAT WE PRACTICE DAILY
We pray, we write, and we speak out loud the word of God over our lives
Fear, doubt, unbelief, and lack of confidence
LEAVES YOU
&
YOU BECOME EMPOWERED
This started as a 10-day challenge and is CONTINUING daily now!!!
YOU CAN JOIN NOW AND STAY ACTIVE FOR AS LONG AS YOU LIKE
Daily power up with us with the WORD !!!

Words run things
Change the words you think, speak, pray
AND WATCH YOUR LIFE SHIFT
PLEASE READ 🔥🔥🔥🔥
In the video, you will hear me say it's 10 days only but now it's a live active group
All you need to join is a pen, tablet to journal in of any kind, the free voxer app, and your voice!!!
Join for $33/mo cancel anytime
The yearly investment will be $297/yr cancel anytime (save 3 months)
🔥10 core powerful audios to use over and over as you practice the new habit

🔥Access to any challenge LaKeisha launches in the group monthly
🔥Private group with daily audio practice
🔥Ignite your ability to command and declare YOUR NEW LIFE ON FIRE daily
🔥Special prayers, audios, etc specifically for this group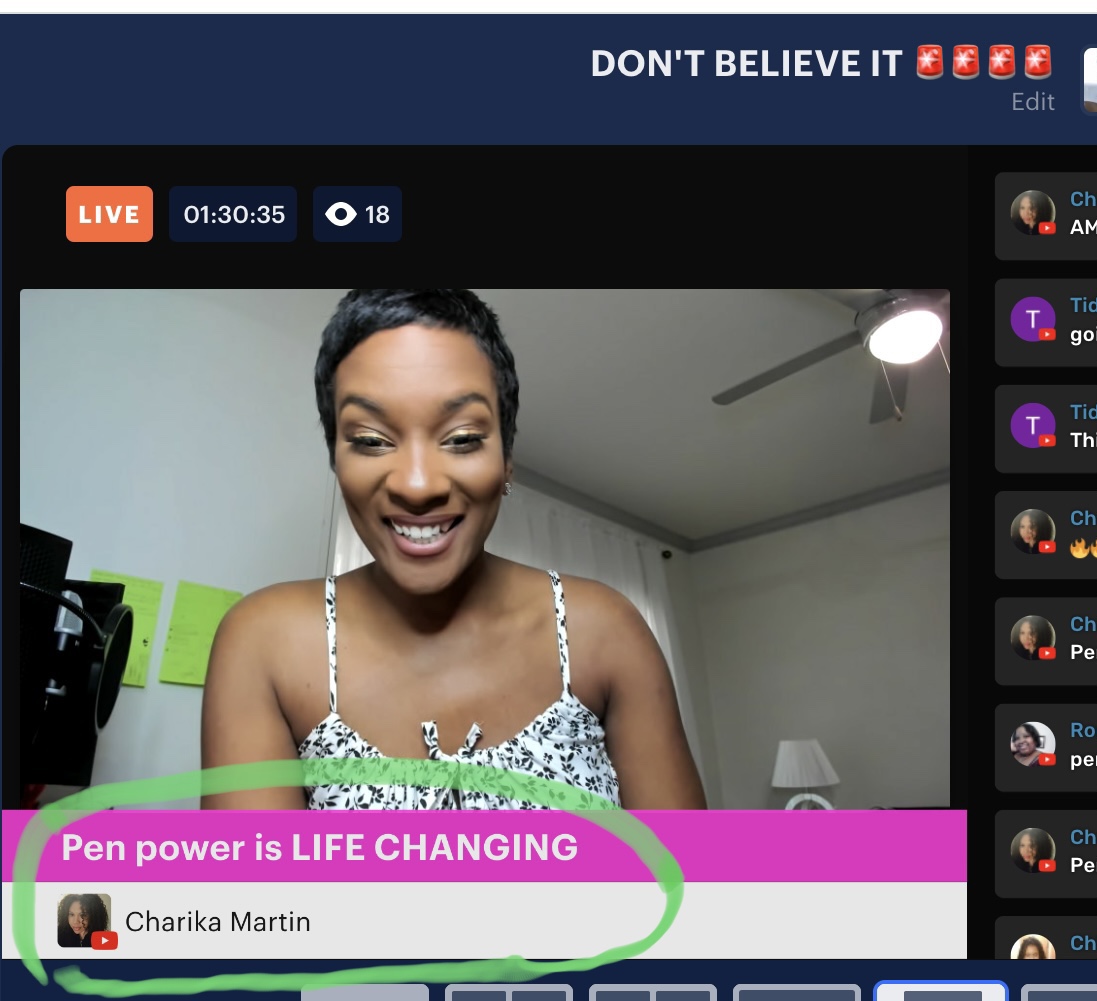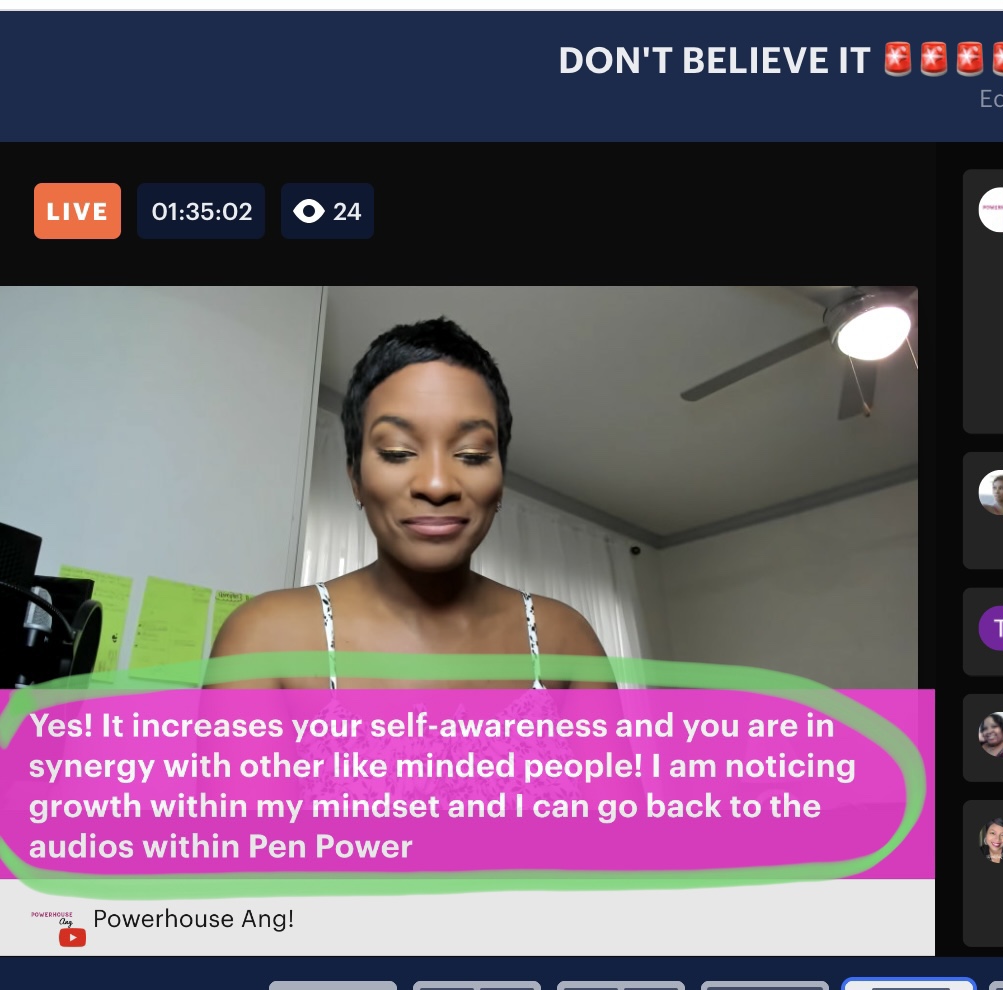 🚨Testimonial:
"𝘐 𝘩𝘢𝘷𝘦 𝘣𝘦𝘦𝘯 𝘢 𝘮𝘦𝘮𝘣𝘦𝘳 𝘰𝘧 𝘗𝘦𝘯 𝘗𝘰𝘸𝘦𝘳 𝘴𝘪𝘯𝘤𝘦 𝘔𝘢𝘳𝘤𝘩 2022. 𝘛𝘩𝘦 𝘝𝘰𝘹𝘦𝘳 𝘨𝘳𝘰𝘶𝘱 𝘪𝘴 𝘢 𝘴𝘢𝘧𝘦 𝘴𝘱𝘢𝘤𝘦 𝘵𝘰 𝘱𝘳𝘰𝘤𝘭𝘢𝘪𝘮 𝘺𝘰𝘶𝘳 𝘥𝘦𝘤𝘭𝘢𝘳𝘢𝘵𝘪𝘰𝘯𝘴 𝘧𝘰𝘳 𝘵𝘩𝘦 𝘥𝘢𝘺 𝘢𝘯𝘥 𝘯𝘦𝘵𝘸𝘰𝘳𝘬 𝘸𝘪𝘵𝘩 𝘰𝘵𝘩𝘦𝘳 𝘭𝘪𝘬𝘦 𝘮𝘪𝘯𝘥𝘦𝘥 𝘪𝘯𝘥𝘪𝘷𝘪𝘥𝘶𝘢𝘭𝘴. 𝘠𝘰𝘶 𝘢𝘳𝘦 𝘧𝘳𝘦𝘦 𝘵𝘰 𝘣𝘦 𝘢𝘴 𝘢𝘤𝘵𝘪𝘷𝘦 𝘰𝘳 𝘴𝘪𝘭𝘦𝘯𝘵 𝘢𝘴 𝘺𝘰𝘶 𝘱𝘭𝘦𝘢𝘴𝘦. 𝘐 𝘩𝘢𝘷𝘦 𝘯𝘰𝘵𝘪𝘤𝘦 𝘸𝘩𝘦𝘯 𝘐 𝘧𝘶𝘭𝘭𝘺 𝘱𝘢𝘳𝘵𝘪𝘤𝘪𝘱𝘢𝘵𝘦 𝘣𝘺 𝘸𝘳𝘪𝘵𝘪𝘯𝘨 𝘮𝘺 𝘪𝘯𝘵𝘦𝘯𝘵𝘪𝘰𝘯𝘴 𝘪𝘯 𝘢 𝘫𝘰𝘶𝘳𝘯𝘢𝘭 𝘢𝘯𝘥 𝘵𝘩𝘦𝘯 𝘷𝘦𝘳𝘣𝘢𝘭𝘭𝘺 𝘴𝘵𝘢𝘵𝘦 𝘮𝘺 𝘥𝘦𝘤𝘭𝘢𝘳𝘢𝘵𝘪𝘰𝘯𝘴 𝘸𝘪𝘵𝘩𝘪𝘯 𝘵𝘩𝘦 𝘝𝘰𝘹𝘦𝘳 𝘨𝘳𝘰𝘶𝘱 𝘮𝘺 𝘴𝘦𝘭𝘧-𝘵𝘩𝘰𝘶𝘨𝘩𝘵𝘴 𝘢𝘳𝘦 𝘦𝘭𝘦𝘷𝘢𝘵𝘦𝘥 𝘵𝘩𝘳𝘰𝘶𝘨𝘩𝘰𝘶𝘵 𝘵𝘩𝘦 𝘥𝘢𝘺. 𝘐 𝘩𝘢𝘥 𝘤𝘰𝘮𝘱𝘭𝘦𝘵𝘦𝘥 𝘵𝘩𝘦𝘴𝘦 𝘢𝘤𝘵𝘪𝘰𝘯𝘴 𝘪𝘯 𝘵𝘩𝘦 𝘱𝘢𝘴𝘵 𝘰𝘯 𝘮𝘺 𝘰𝘸𝘯, 𝘣𝘶𝘵 𝘐 𝘸𝘢𝘴𝘯'𝘵 𝘤𝘰𝘯𝘴𝘪𝘴𝘵𝘦𝘯𝘵. 𝘛𝘩𝘦 𝘷𝘢𝘭𝘶𝘦 𝘤𝘰𝘮𝘦𝘴 𝘧𝘳𝘰𝘮 𝘵𝘩𝘦 𝘴𝘺𝘯𝘦𝘳𝘨𝘺 𝘸𝘪𝘵𝘩𝘪𝘯 𝘵𝘩𝘦 𝘨𝘳𝘰𝘶𝘱. 𝘐 𝘩𝘢𝘷𝘦 𝘴𝘦𝘵 𝘩𝘪𝘨𝘩𝘦𝘳 𝘴𝘵𝘢𝘯𝘥𝘢𝘳𝘥𝘴 𝘧𝘰𝘳 𝘮𝘺 𝘥𝘢𝘺 𝘥𝘶𝘦 𝘵𝘰 𝘩𝘦𝘢𝘳𝘪𝘯𝘨 𝘴𝘰𝘮𝘦 𝘰𝘧 𝘵𝘩𝘦 𝘷𝘢𝘭𝘶𝘦𝘴 𝘧𝘳𝘰𝘮 𝘮𝘺 𝘯𝘰𝘸 𝘱𝘦𝘦𝘳𝘴 𝘸𝘪𝘵𝘩𝘪𝘯 𝘵𝘩𝘦 𝘨𝘳𝘰𝘶𝘱. 𝘛𝘩𝘦 𝘨𝘳𝘰𝘶𝘱 𝘩𝘢𝘴 𝘢 𝘣𝘦𝘢𝘶𝘵𝘪𝘧𝘶𝘭 𝘥𝘪𝘷𝘦𝘳𝘴𝘦 𝘥𝘦𝘮𝘰𝘨𝘳𝘢𝘱𝘩𝘪𝘤 𝘰𝘧 𝘮𝘦𝘮𝘣𝘦𝘳𝘴 𝘸𝘩𝘰 𝘩𝘢𝘷𝘦 𝘰𝘯𝘦 𝘨𝘰𝘢𝘭 𝘰𝘧 𝘣𝘦𝘪𝘯𝘨 𝘵𝘩𝘦𝘪𝘳 𝘩𝘪𝘨𝘩𝘦𝘴𝘵 𝘴𝘦𝘭𝘧, 𝘱𝘭𝘦𝘢𝘴𝘪𝘯𝘨 𝘵𝘰 𝘎𝘰𝘥 𝘢𝘯𝘥 𝘭𝘪𝘷𝘪𝘯𝘨 𝘢 𝘴𝘱𝘦𝘤𝘵𝘢𝘤𝘶𝘭𝘢𝘳 𝘭𝘪𝘧𝘦. 𝘚𝘪𝘥𝘦 𝘯𝘰𝘵𝘦: 𝘠𝘰𝘶 𝘸𝘪𝘭𝘭 𝘯𝘰𝘵𝘪𝘤𝘦 𝘺𝘰𝘶𝘳 𝘱𝘶𝘣𝘭𝘪𝘤 𝘴𝘱𝘦𝘢𝘬𝘪𝘯𝘨 𝘴𝘬𝘪𝘭𝘭𝘴 𝘪𝘯𝘤𝘳𝘦𝘢𝘴𝘪𝘯𝘨 𝘸𝘩𝘦𝘯 𝘭𝘦𝘢𝘷𝘪𝘯𝘨 𝘷𝘦𝘳𝘣𝘢𝘭 𝘮𝘦𝘴𝘴𝘢𝘨𝘦𝘴 𝘰𝘯 𝘝𝘰𝘹𝘦𝘳 𝘢𝘯𝘥 𝘦𝘹𝘤𝘩𝘢𝘯𝘨𝘪𝘯𝘨 𝘧𝘦𝘦𝘥𝘣𝘢𝘤𝘬 𝘸𝘪𝘵𝘩 𝘵𝘩𝘦 𝘨𝘳𝘰𝘶𝘱."
-Angela
🚨Testimonial:
"I joined this group bcuz I had such a transformation when I did clutter to clarity. I learned the power of writing things down and declaring it, if we truly play full out we will see the results. As I stated in the group I like to stay close to the energy bcuz it keeps you on point . Everyone here is so positive so you get to draw energy from others to push through. It's a blessing to hear other testimonies the energy is real, thanks Lakeisha."
-Desrine
🚨Testimonial:
Pen to Power been life changing. My life has changed to empower my love of writing and given me power to put l write into action. This community has been so encouraging to me and it has been the support l needed to continue to move forward.
To hear the voice of beautiful diverse encouraging voices; even in your silence you will be so encouraged to write with power and move. I love the encouragement l get from each member sharing there tips that has help them to be successful.
This a loving community that moving in action with our pen 🖊. I am so grateful to be apart of the community because not along writing and speaking with people with like minds moving in action. This community has been exciting to do the work together moving forward with Jesus. So excited for our success in 2022. Pen to Power has given power in my voice, in my pen, in my action. I am excited to light up my life for Jesus!! This community has empowered to stay focus on my purpose!!
-Sandra
🚨Testimonial:
"As soon as Lakeisha announced Pen Power I knew I was in without even knowing much about it.
I have found the accountability to put pen to paper and dreams to voice each day very supportive and have started to see evidence of my declarations in the physical.
I can't wait for more!
There is something powerful in this space that holds a container for us to release old stories and step in to God's goodness fully
Come join us'
-Jay Diamond
🚨Testimony:
"From the moment I joined Pen Power I KNEW this was something so different and powerful! That it would be a tool and resource to launch me into my next level! I could feel the powerful and encouraging atmosphere in the Voxer group immediately!
Since being apart of this group I have come out of my comfort zone and have overcome the fear of speaking and using my voice! I was already a writer and had the many journals to show for it! But the challenge to SPEAK OUT what I was writing was the thing I needed to break me out of stagnancy and greater faith! I see such a difference in days when I am not able to be active in the group and days when I am! It's life changing!
I had been praying for like minded people to connect with who had similar goals and desires and were on a similar journey because I felt so alone!
And this was undoubtedly an answer to prayer! It challenges you and it empowers you!
LaKeisha is always sooo amazing in everything she does and touches and creates! This group is no different!
It will literally TRANSFORM your life and launch you into your destiny if you play full out and do the spiritual and practical work!
I love the ladies in the group and I am just so overjoyed that I decided to invest and move to join this group when felt the leading to do so!!!
Thank you LaKeisha for your continual obedience and for your passion and love to help us the way that you do! God bless you always and God bless every person in this group (and those who will continue to join) as we move forward in all that God has for us in this season and the seasons to come!!! "
-Charika
Your Instructor
Course Curriculum
Make sure you do this!!!
Available in days
days after you enroll
Pen Power pre work
Available in days
days after you enroll
10 Day Challenge
Available in days
days after you enroll
Courses Included with Purchase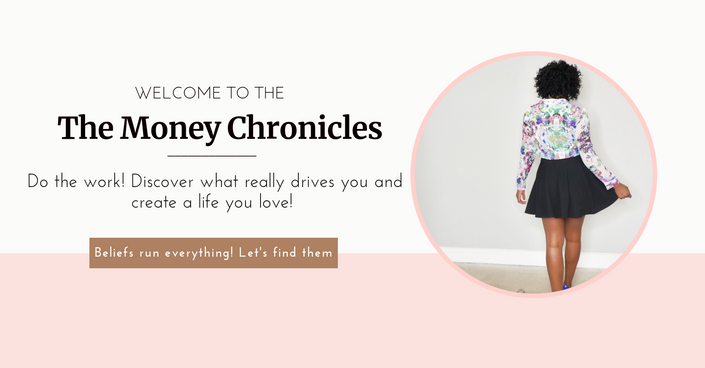 (1) The Money Chronicles
To reach the income, lifestyle, and body you want it starts in the MIND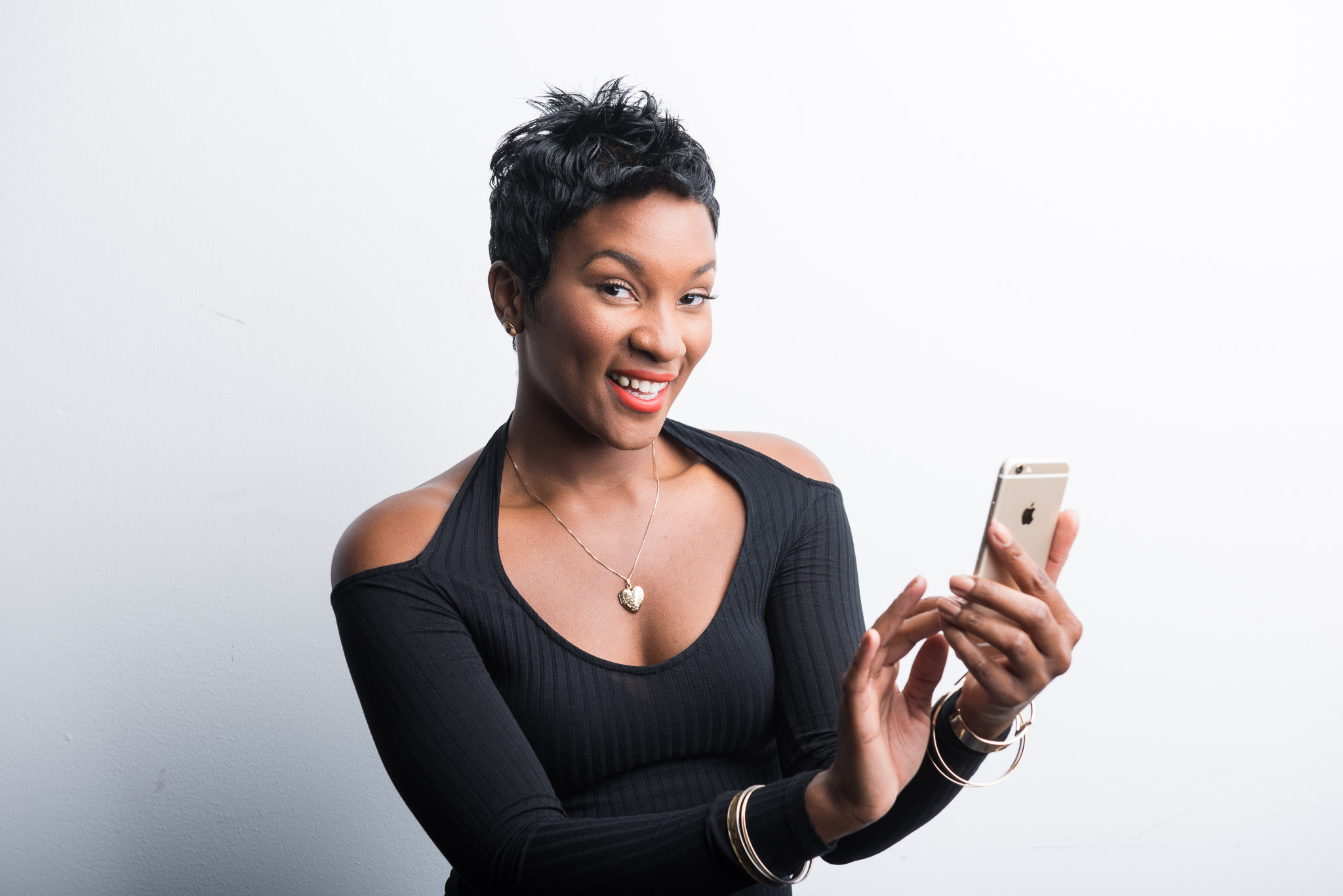 $97
Original Price: $97
Frequently Asked Questions
When does the course start and finish?
There is no finish date - we are already showing up daily in the group - whenever you join it's the perfect time. This is a membership - it's full access to all content right away LIFETIME ACCESS FOR THE $147 PURCHASES NEVER PAY AGAIN -OR PAY $33 A MONTH OR $297 /YR AND CANCEL WHENEVER YOU LIKE This is a private group chat its all audio on the free Voxer app - you do not have to be anywhere specific daily
How long do I have access to the course?
How does lifetime access sound? After enrolling, you have unlimited access to this course for as long as you like - across any and all devices you own.