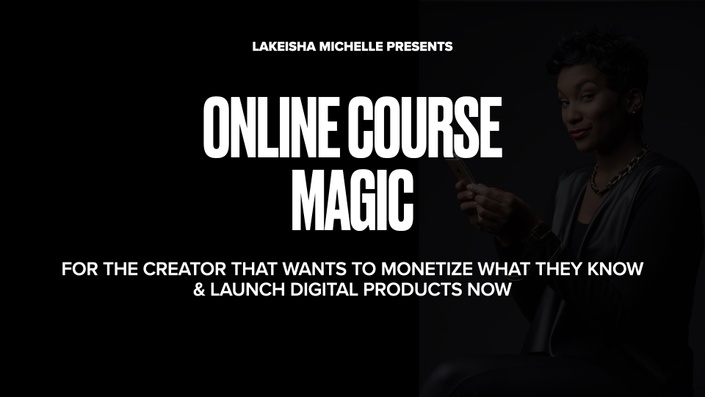 ONLINE COURSE MAGIC SYSTEM
The simple non techy way I create digital courses and products that sell, each month with ease!
Enroll in Course
Create your course now!!
Listen if you are a coach, speaker, author, technician, service provider or practitioner of any sort....
This is for you
You can create your course, workshop, bootcamp, challenge, or membership site now.
You don't need someone to ordain you lol!
There are people looking for real experienced people to show them the way.
Your job is to take what you know...put it into a container...and get in front of those people so you can help them move to the next level!
How great would it feel to take what you know and create an info product that makes you an extra $1200 a month?
If you want to make that happen, the single most important step you can take right now is to map out a simple, realistic plan you can actually stick to.
And that's exactly what I'm going to help you with.
I don't think figuring out complicated funnel software, super long drawn out technical launches, and building a list first...is the way.
I spent part of 2013 and 2014 and almost all of 2015 buying thing after thing that had me stuck in all these things...that just made me feel like I was going somewhere ....
BUT WASN'T
I was learning when I already knew the exact steps my audience needed to take to get breakthrough....
BUT because it didn't look and sound like everyone else....I just kept paying for things I didn't even use
Pulling the trigger is KEY
If you have a process, technique, or system that will consistently get people results they are willing to pay for...then you should be wrapping it up into a course of some sort AND SELLING IT NOW
ok!!!! Let me explain
I'd spent years doing hair and making women look fabulous.
My salon business was making over $100k a year.
I had gotten my schedule down to working just a few days a week.
I knew this business like the back of my hand, but the catch was...I was tired.
I wanted to create additional income that didn't require me to HAVE to stand behind that chair.
Funny thing is...at that time people were bringing their laptops into the salon having me make them websites, and show them how to make youtube videos for their business, and more!! (I was already teaching in person)
Again I put it off for years!
Isn't that funny that I could teach someone how to make videos that to this day stilllll send them clients....yet I didn't even understand the value of what I was sharing!
I digress...moral of the story
After being busy being busy...I finally got called out in my mastermind by my coach.
He told me launch now and I had 48hrs. He gave me no tips or instructions. He only expected the outcome.
So I went away ....scared as heck!
I didn't want to be embarrassed so I went home...and made a super simple page and made an offer video asking people to join my class... and went to sleep. The whole time my dad was cracking and smacking on crab legs in the background...I was in my parents bedroom...the video was me on my phone just making use of what I had.
The next day....I got a sale
I was blown away.
I was sure that someone was mad because they didn't know how to log in....(because I barely knew how to work the software lol)
BUT
I did it
I had no list
I had no 3 part series
I had no freebie
etc
That made me realize that if I just keep presenting the offer then people will join!
If I show up
They show up
1 by 1
What I learned is that once I kept doing that...the people helped me make the course better.
That begin the 1st of over 20 courses that have made multiple 6 figures!!
Now why I am I telling you all of this ??
Because I learned that you can presale or launch now and not later and that whatever excuse you have is simply an excuse.
People love to grow with you
You have to be willing to show up imperfect yet consistent.
Version 1 is better than version none!
Once I got out of my way I was able to quit my day job and replace that income with my course creation income.
I would be in countries like
Croatia
Iceland
Barcelona
Rome
barbados
LIVING IT UP and teaching from my laptop!!
Lisa Nichols saw my transformation and asked me to come teach her audience how I create courses in a day that sell out !!!
For example
I knew I wanted to write a book but it wasn't published yet...
So I took the book conversation, made it a course, and then published my book weeks later.
Meanwhile that course gave me my first $10K week
I was blown away
I used the same strategy
I had no list
I had no fancy stuff
I even took cards over the phone
I got online and told as many people
I went offline and told as many people
I taught for free and asked people to buy daily
And I had a deadline for them to enroll
I presold the course and changed their lives!!!
To this day
I launch all the time now with ease. You don't have to be tech savvy. If you have a message that you want to turn into a course, or a book, and you want to start NOW and not later!!
But let me rewind.....
I hope you aren't doing like I did. I waited for the perfect sign, camera, software...oh and RING LIGHT.
lol
So silly and such a waste of time.
There are no lack of resources. Meaning that we have all we need in front of us...we just need to be resourceful.


My life elevated when I decided to just freaking start!!
I get the questions all the time:
How do you create your courses?
What lighting?
What camera?
How do I record classes without being on camera?
What webinar software do you use?
How do you collect payments?
How do you start an email list?
How did you sell the courses?
How do I create the membership site?
How do I create the facebook groups?
How do I build followers on my social media?
How do I even start on social media?
and so on and so on....
I will show you what took me yearsssss to figure out. It won't take you anyyyy of that time. I have EASY steps anybody can use.
If you want to save time, not stress, have a mentor to look over your work, and get your course done within a 30 day time frame....with EASE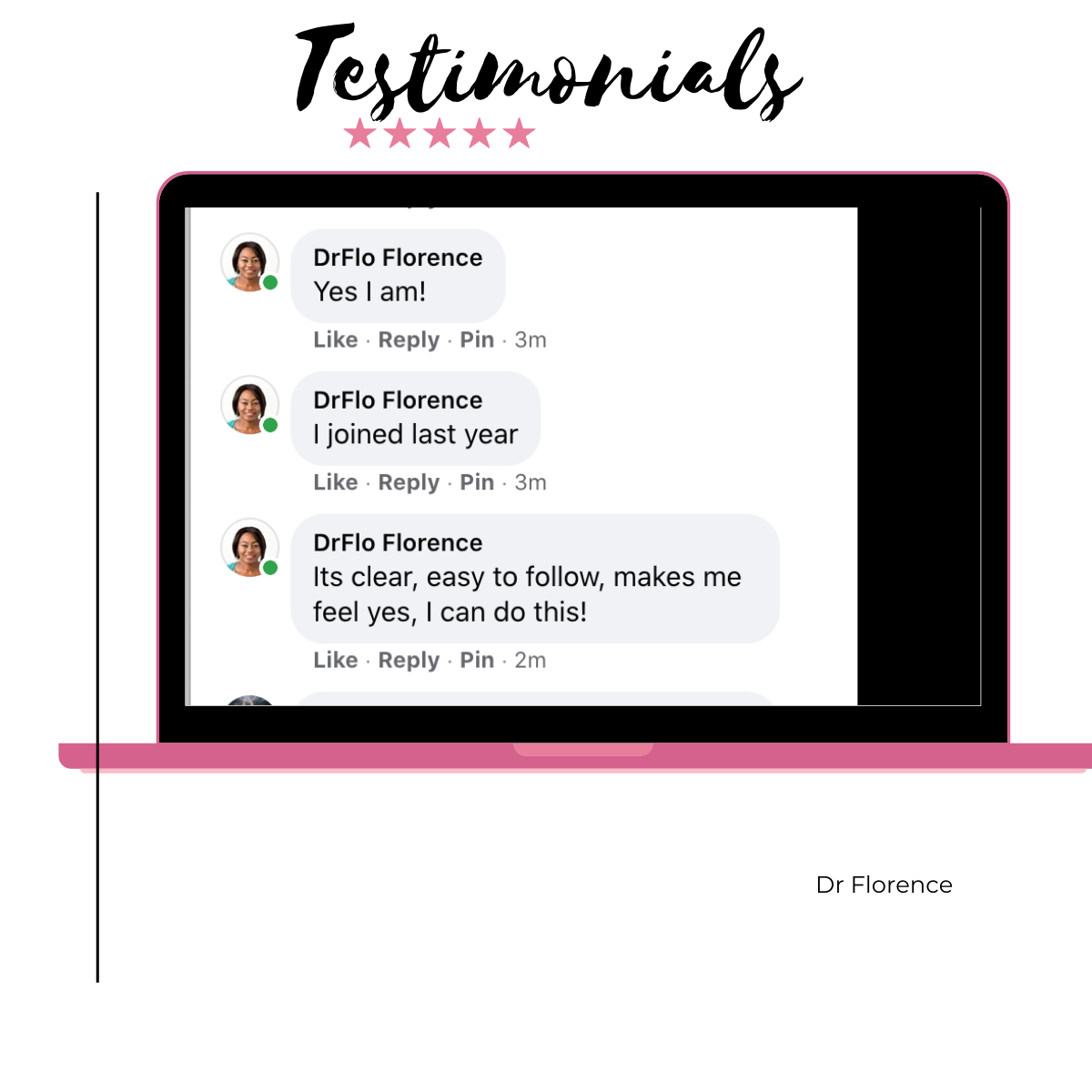 This is for you.
I'm there every step of the way.
Once I decided that I had enough of being basic... and just watching others create their passions....
Once I decided that I was tired of watching people struggle with what I knew how to help them do with ease...
My life opened up!!
I started creating courses on the side of my day job.
This is one of my payment processors.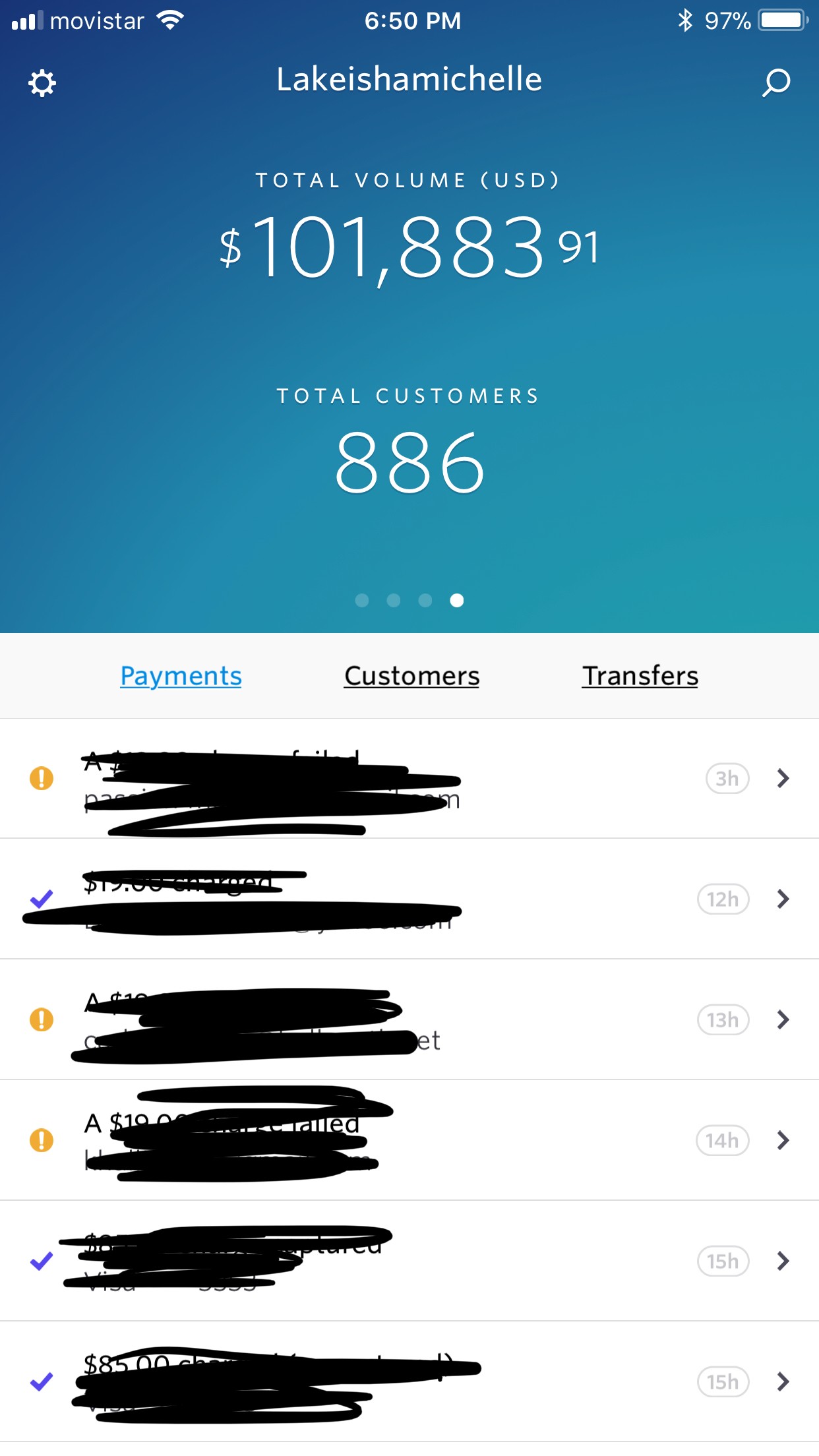 Who needs what you know how to do?
What could you do with any extra $20k , $30k , or $100k a year?

What I know for sure is that studying for years like I did still wasn't the same as when I DECIDED that the time was NOW
If you feel the pull to create and want to learn how I left my hair business in 2016 and now work solely online ifrom around the world creating courses and workshops
Join this course!
You will get the how to videos on course creation from start to finish.
If you don't want to be on camera. Don't worry I got you.
Want to learn to look better on camera? I got you.
Want to learn how to sell on social media?
Want to eventually wake up to payments?
This is for the beginner and advanced.
I got you!!
Things I teach in this course are:
-How to brain dump all ideas so you can get out of overwhelm and start taking action
-How to decide on a course to teach right now that delivers results people will pay you for
-How to create the modules with ease and within a short period of time so that you can help people now
-How to break down each module into your course content so that you get straight to the point and make customers shocked at how you delivered on your word
-How to choose delivery of the course + things to consider and ways to get started now
-How to pre-record my classes on power points. You don't have to be on camera or techyif you don't want to.
-How to create a webinar and get registrations that build your email list of interested ideal clients
-How to accept payments using square online store / invoicing so you don't have to spend any money upfront and can take sales immediately
-How to accept payments using paypal so you can be paid now
-How I kept track of manual sales on a google sheet when I sell to one person at a time so you don't have to be bothered with software that helps you track these things yet. Think about it
-How to connect domain (.com) website addresses to my pay links or sales pages so when people type in yourwebsite.com it goes to the sales page of your choice
-Behind the scenes of my click funnels so you can understand how it works for your business before you buy
-Behind the scenes of my teachable so you can see how you can setup quickly
-Behind the scenes video hosting and my opinions to help you choose a platform
-Behind the scenes how I record my hair class "how to" videos in my home so you can start right away recording your skill or service from home
-How I sell over social media and the strategy so you can use it right now
-How I create ebooks, worksheets, pdf downloads so easily so you can do it within 48hrs!
-Masterclass, webinar, livestream clarity so you can start one or all of these right away!
-How to start fast selling digital products with my presell technique that you can use right away to sell before you even build your content
-How to create videos that sell so you can use this formula and have videos that attract customers
-How to create free content that turns into paid content so you don't have to worry about Fb ads right now
I am alwaysssss adding more content based on my member needs.
We just hit 305 members from all over the world!!
The value of this course is $997 but your investment is one time payment of $497
or
2 easy payments of $249 (30 days apart)
WHAT YOU GET:
ONLINE COURSE MAGIC VALUE $997 BUT YOU PAY $497
PRE SELL YOUR COURSE $297 BUT YOU PAY $0
10 STEPS TO 10K $997 - $497- BUT YOU PAY $0
FAST START TO DIGITAL - $97 BUT YOU PAY $0
LIFETIME ACCESS $1997- BUT YOU PAY $0
PRIVATE FB GROUP $297- BUT YOU PAY $0
PDFS WORKSHEETS $97- BUT YOU PAY $0
This course is yours to download and use over and over!!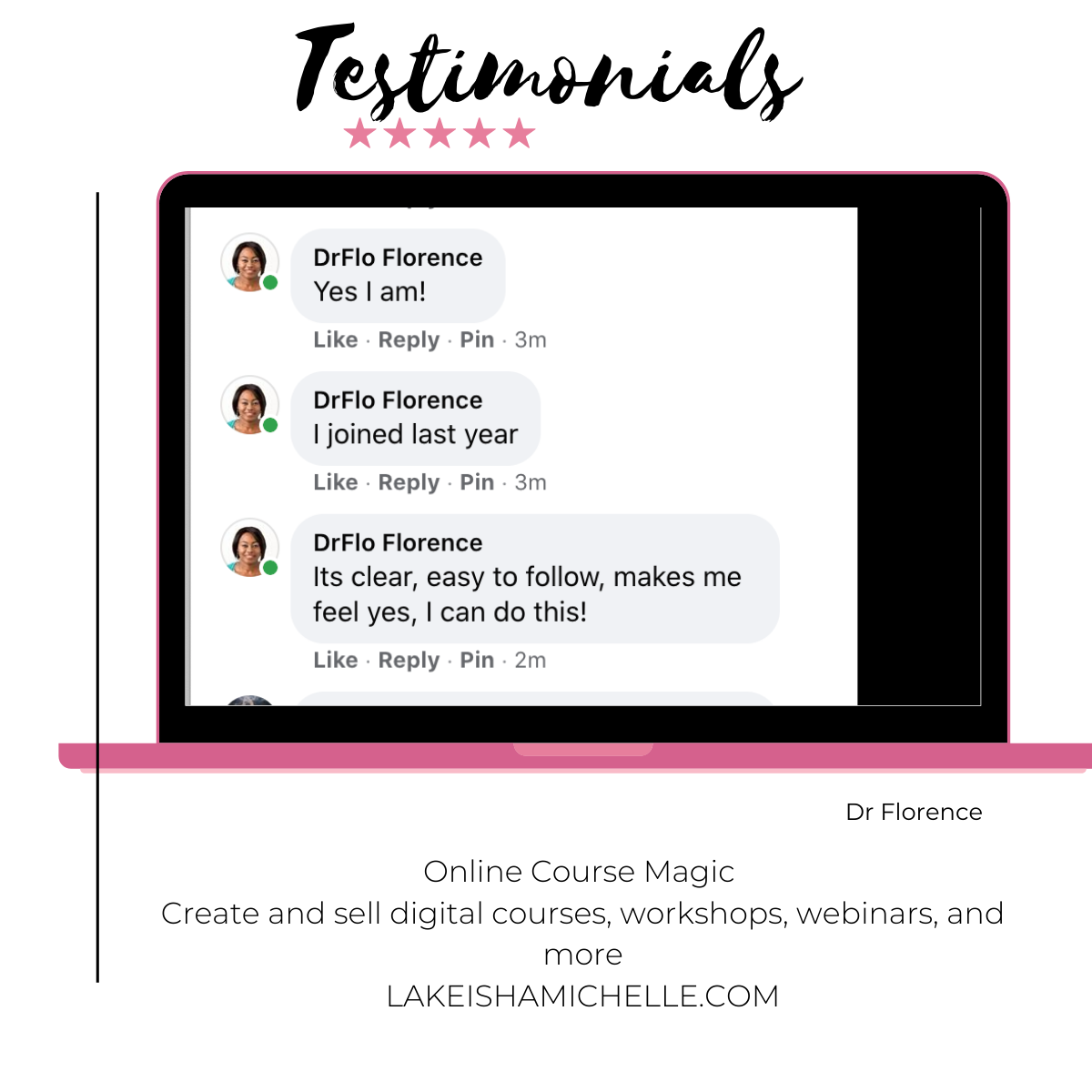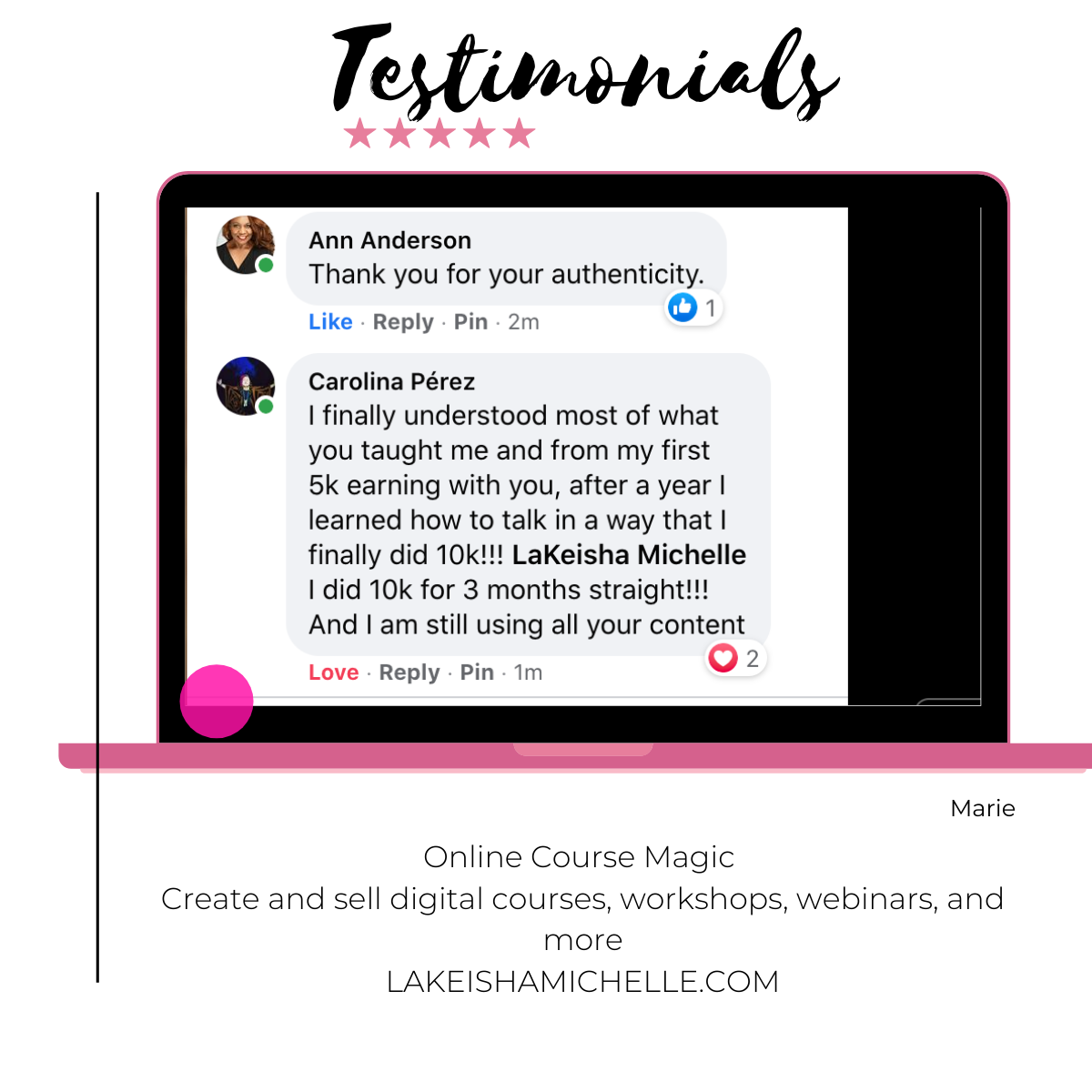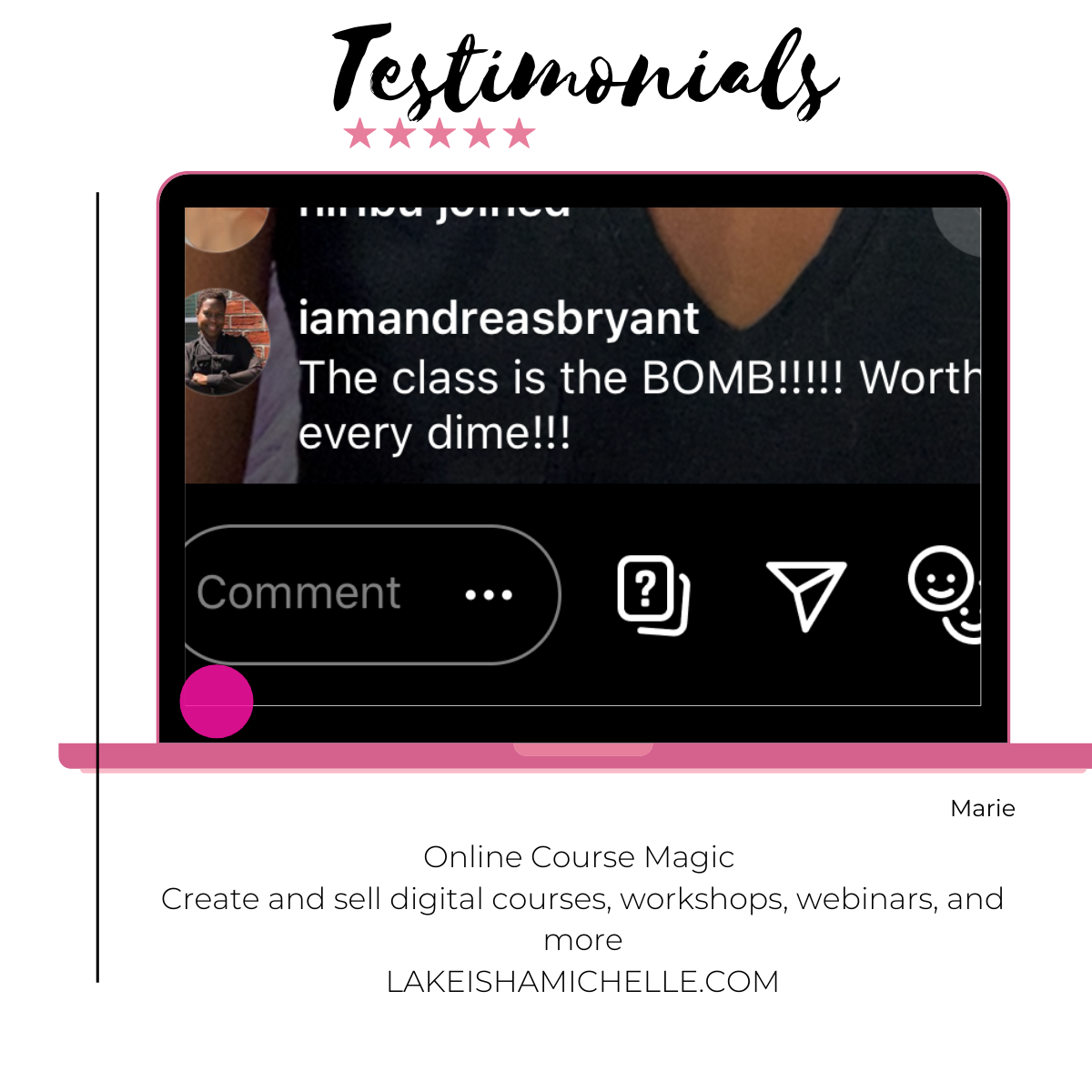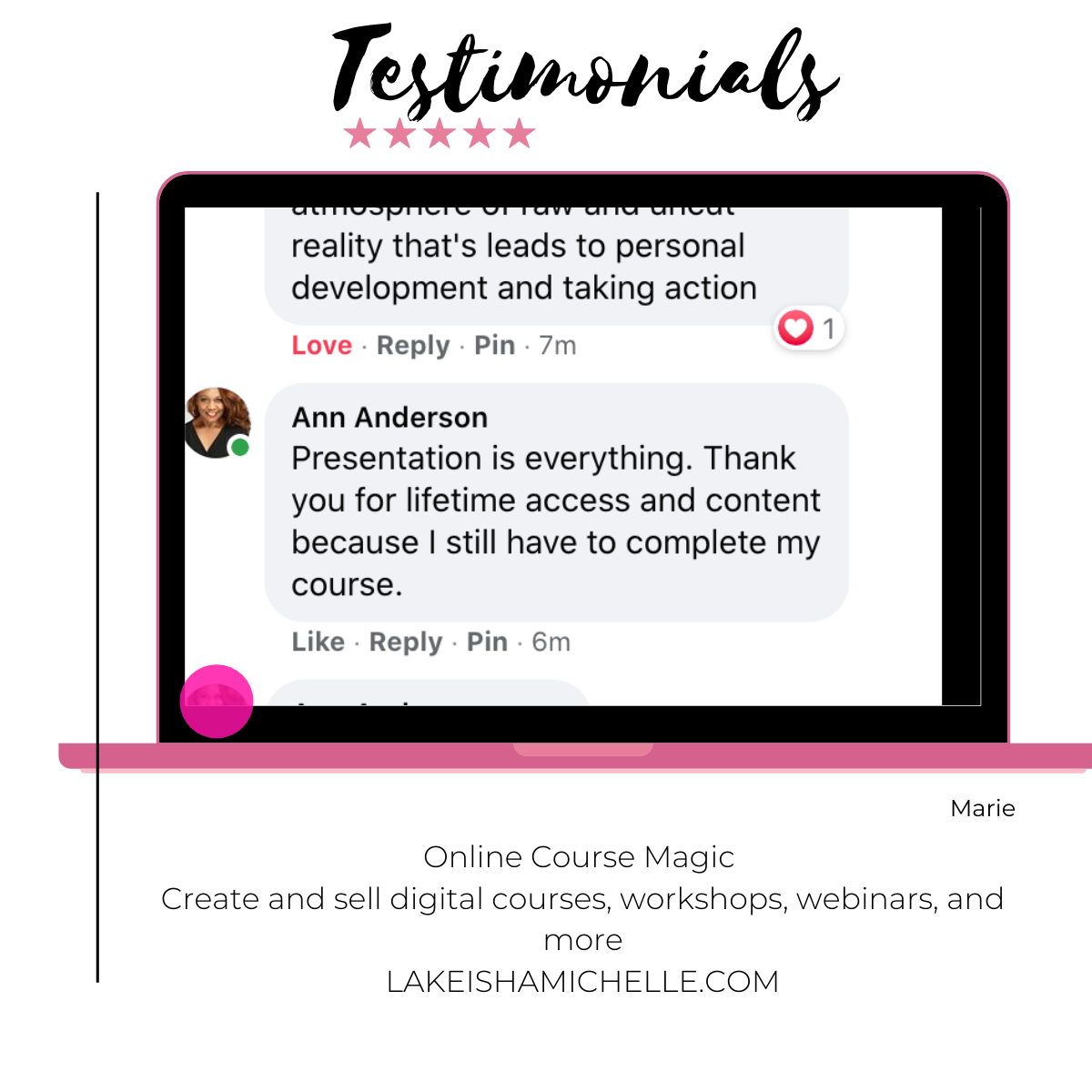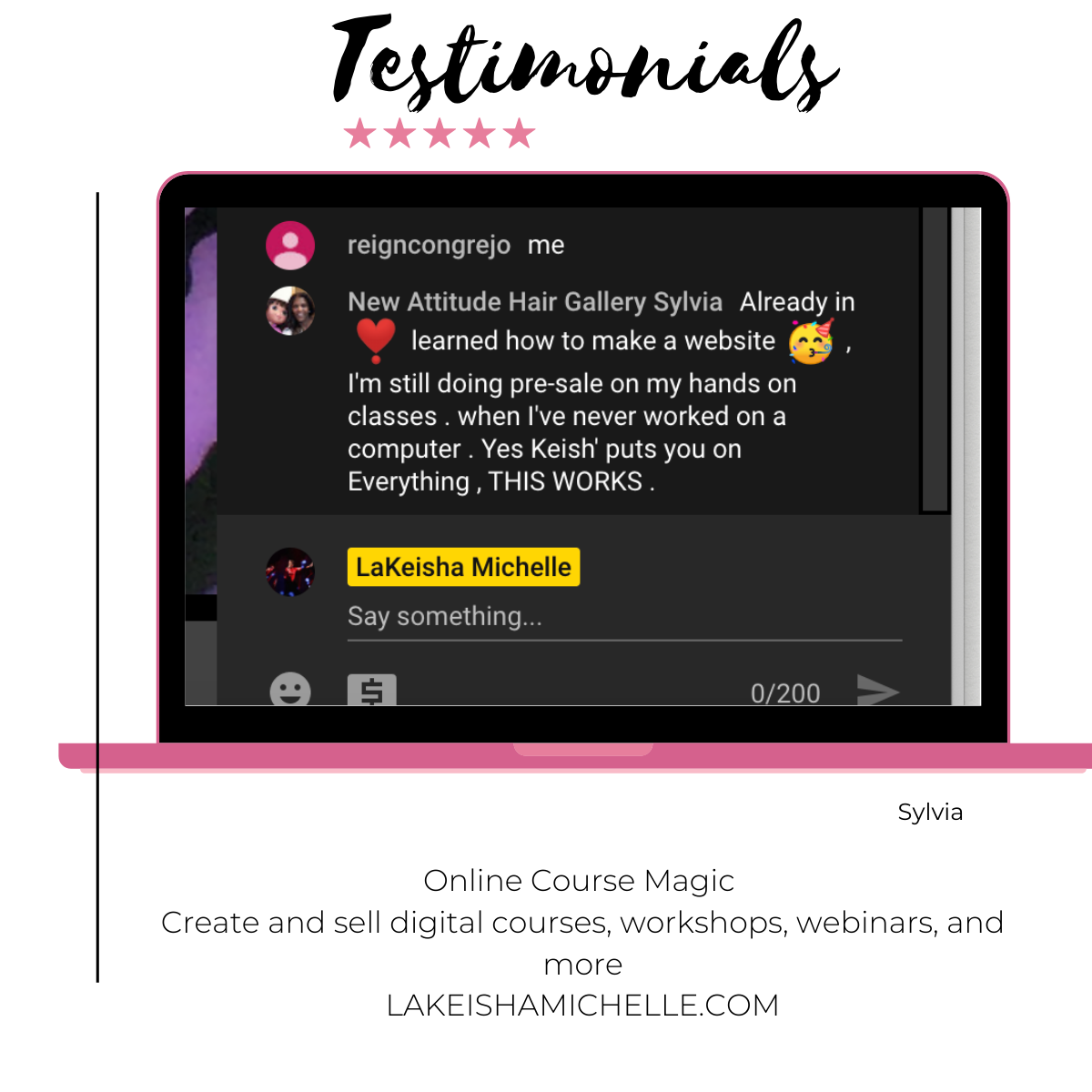 See you soon
Xo
Your Instructor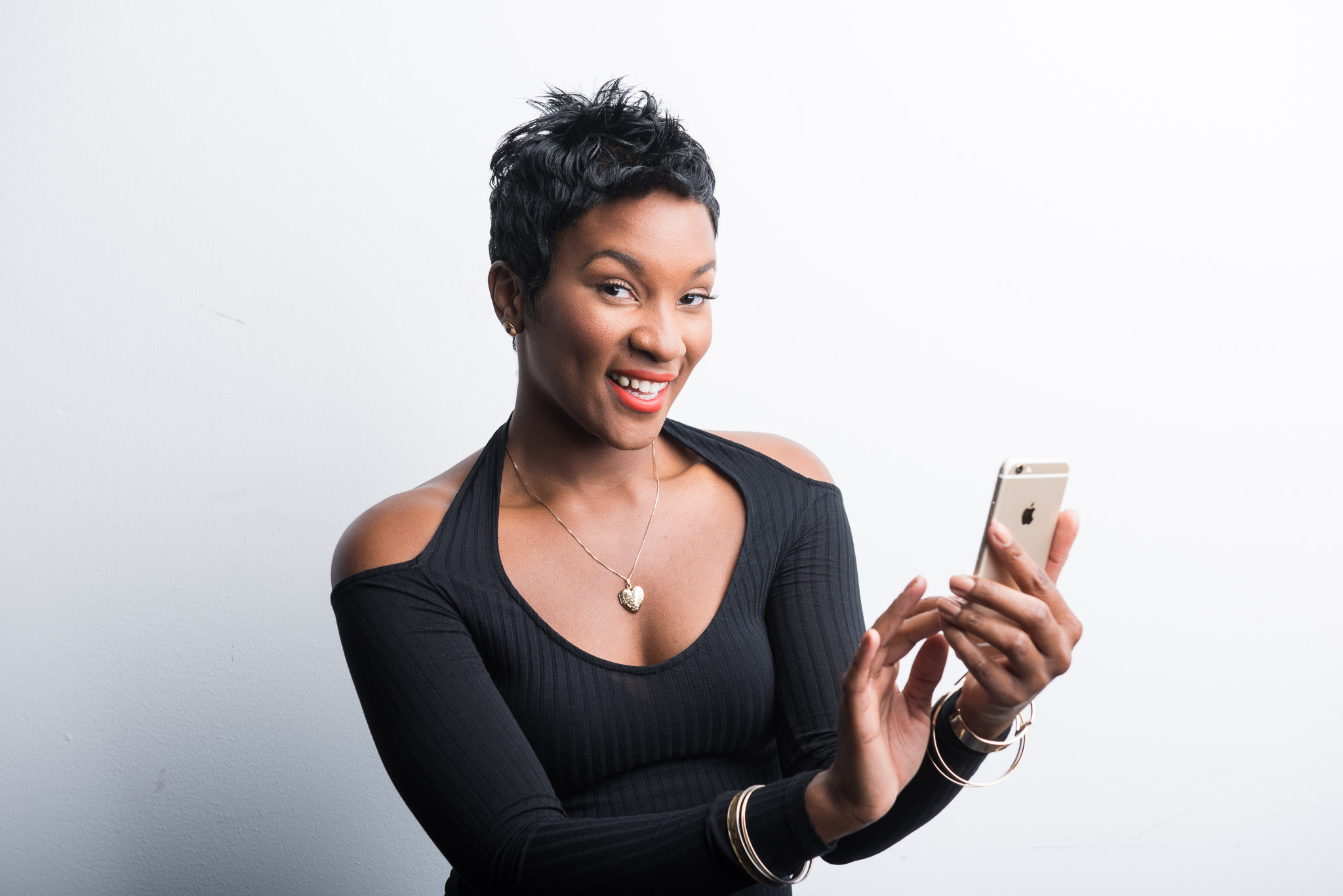 This hair dresser took her life from broke and broken, to world traveling, #1 international best selling author, singing, songwriting, work from wherever way days. She used the beauty industry to design life on her terms. After creating a six figure salon business in Dallas and Los Angeles she realized there is a formula that just works, and beauty professionals everywhere can do it. She is determined to tell as many cosmetologists as she can so that they too can create a barely recognizable life. Her fun live streams and courses are designed to inspire, teach, and kick your butt into action. You can live life on your terms. The beauty industry is a gift that allows you be blessed while being an even bigger blessing to others. If you are ready for that next level version of you, take a leap of faith, invest in yourself, and take one of her classes. Members rave about the results they see in their business and personal life! If not now, then when? The magic shift you desire is inside of you...waiting for you to tap in!
Course Curriculum
Welcome
Available in days
days after you enroll
Phase 1 Course Creation- Watch each video and use the worksheets. You will have a full digital product
Available in days
days after you enroll
Courses Included with Purchase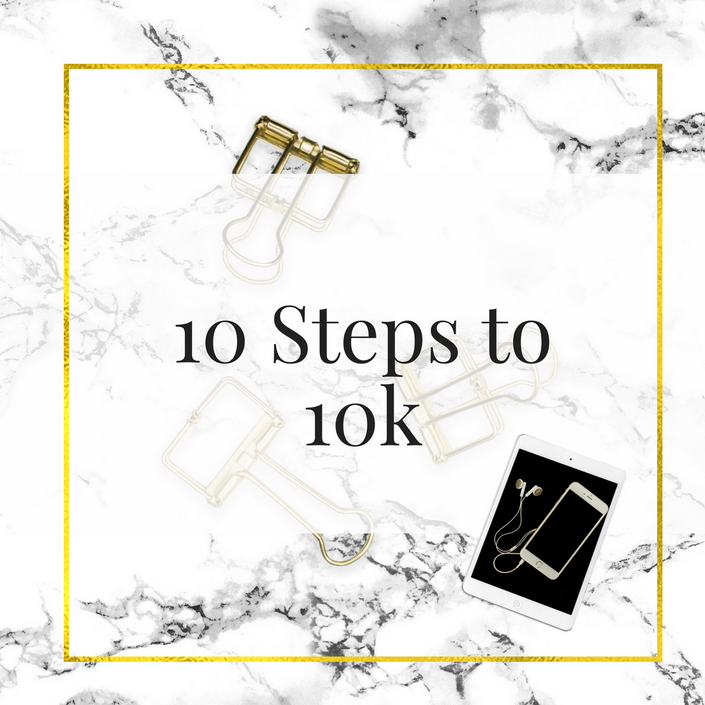 10 Steps 10k Using Social Media
Here are the exact techniques I use on my social media to sell my courses and products!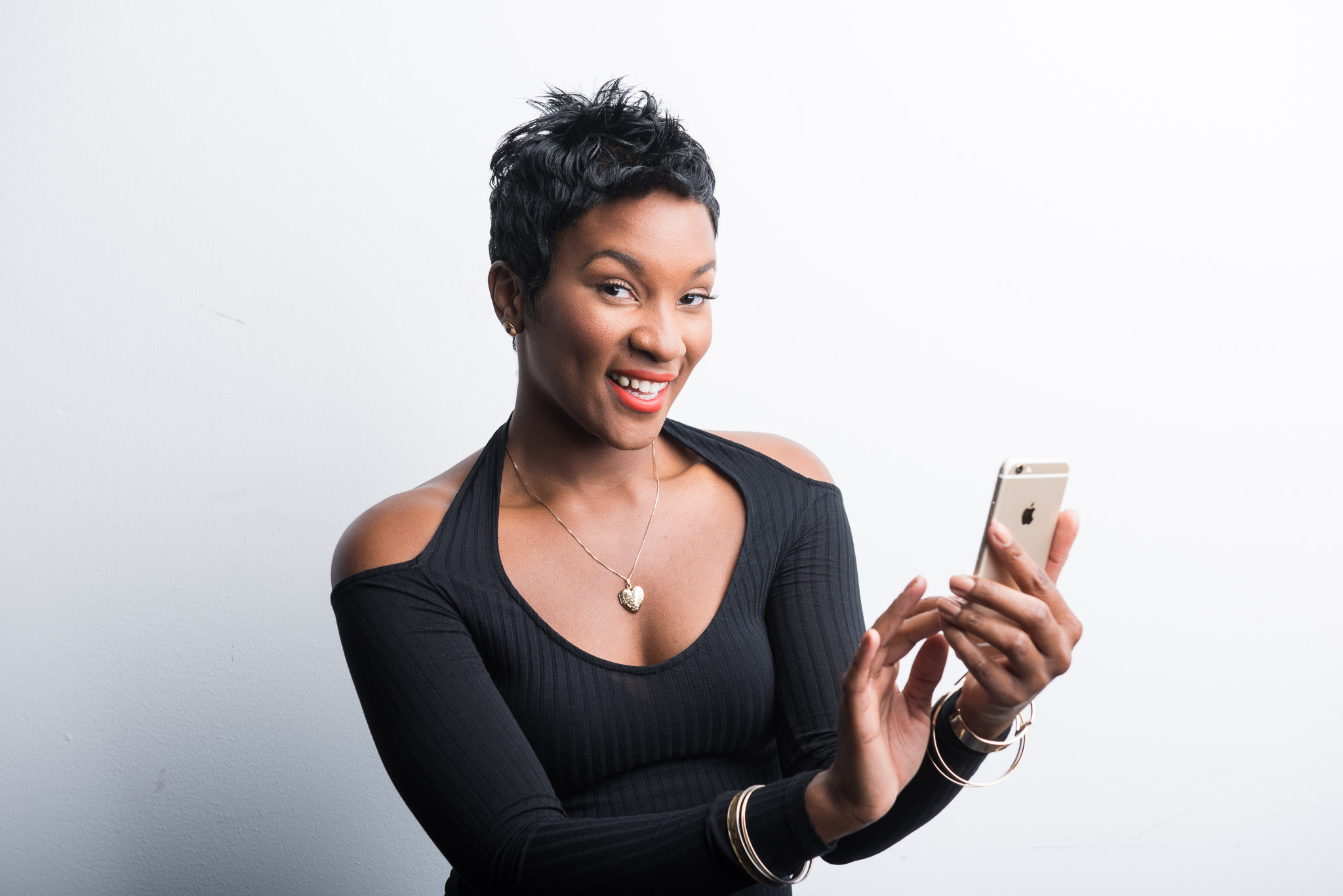 $497
Original Price: $497
Frequently Asked Questions
What type of business is this for?
If you have a skill that you want to turn into a class and sell with a course this is for you!
When does the course start and finish?
The course starts now and never ends! It is a completely self-paced online course - you decide when you start and when you finish.
How long do I have access to the course?
How does lifetime access sound? After enrolling, you have unlimited access to this course for as long as you like - across any and all devices you own.
What if I am unhappy with the course?
All digital courses are non refundable!
When will I get access?
Instantly